Led lamp features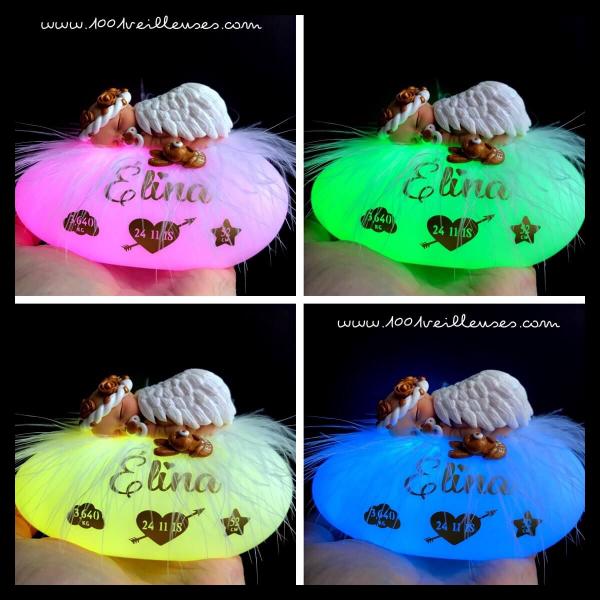 Automatic and progressive color change
relaxing ambiance
The led lamp does not heat.
Solid, the lamp resists shocks.
ON/OFF switch
Works with 3 LR44 batteries
(Demo batteries are included.)
Materials: PVC and FIMO
Product dimensions: 12 X 7 X 7 cm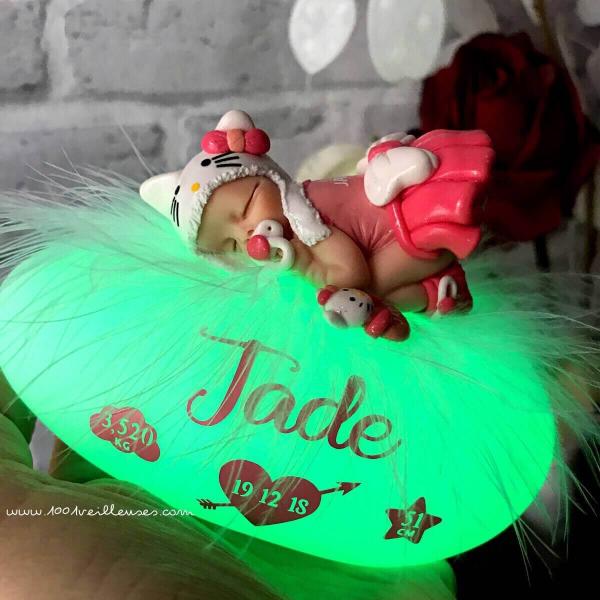 To customize your lamp, you can choose:
the skin color of the baby the color of the clothes for some models the date of birth/ or baptism, written on your night light [Optional] the birth weight of the baby, written on your night light [Optional] the baby's birth size, written on your night light [Optional]
To know: The child's first name is automatically written on your nightlight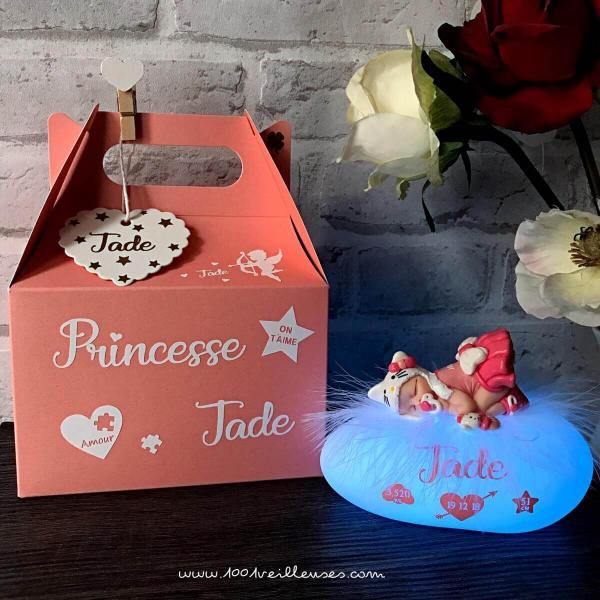 To customize your gift box, you can choose:
the colour of your gift box
your personalized text on the gift box
On the label attached to the gift box, is written the child's first name.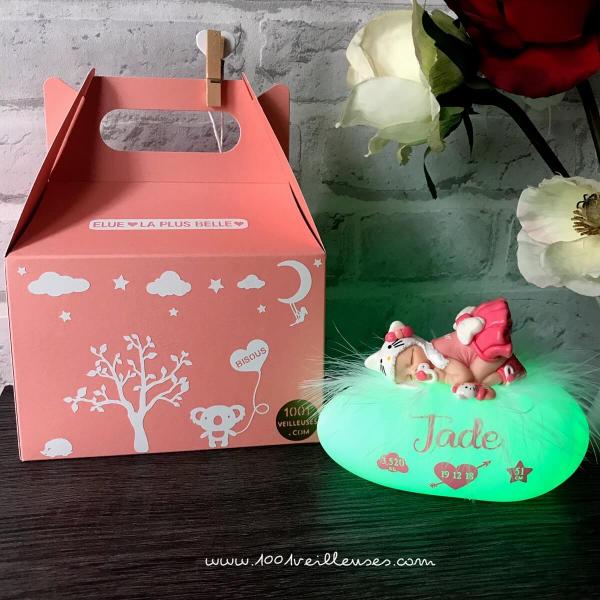 All our nightlights are handcrafted, they cannot be reproduced identically.
Your personalized gift is a unique creation.
Our products are decorative objects. Do not leave within the reach of children under 3 years.

COPYRIGHT - 1001 NIGHTLIGHTS - All our models are deposited and protected.
Visitor's book
Odette Boix
On 02/01/2020
Magnifique veilleuse, travail minutieux et superbe! De même pour son emballage! Encore merci pour votre ...
Vanessa Rousseau
On 22/12/2019
Bonjour très satisfaite de ma commande. Envoie rapide . +++++. Parfait.
jonathan agez
On 16/12/2019
Bonjour, je viens de recevoir la veilleuse pour ma filleule sur le thème des minions et que dire!!!! ...
Yasmina BEN
On 11/11/2019
Bonjour, J'ai reçu la veilleuse qui est magnifique, superbe. Les détails du sujet sont d'une minutie ...
Une superbe création emballée et expédiée avec autant de soin et de délicatesse que représente ce si ...
carine perez
On 20/07/2019
une superbe creation unique qui mele equipe du MHSC de l'OM et du PSG pour mon petit neveu merci beaucoup ...
Je vais être maman d'un petit Tiago pour début octobre le thème de la chambre c'est Mickey & Dumbo. Mon ...
Sterle Sabrina
On 05/06/2019
Bonjour j'ai bien reçus ma veilleuse et comme promis a temps elle est tout simplement magnifique trop ...